StrataCom's Smartbot for Cherwell
& Ivanti Neurons for ITSM
The StrataCom Smartbot provides Cherwell and Ivanti Neurons for ITSM clients an easy-to-configure, intelligent bot for next-level interaction with their ITSM solution. The Smartbot can be deployed in Microsoft Teams or can run as a stand-alone browser.
Problems Solved
Reduce Calls to Service Desk via Omnichannel Microsoft Teams UI.
Deliver Beyond IT Service Management to groups like HR, Facilities, Legal.
How Does it Work?
Leverages Microsoft Teams Bot functionality
Built upon the StrataCom Azure based Ivanti/Cherwell integration platform that already supports Mobile, Kanban, and GANTT Chart functionality
Utilizes Azure's LUIS Cognitive Services for Conversational Language Understanding
Topics and Knowledge Articles within Ivanti/Cherwell are delivered to Customers based on their Questions to the Bot
Incidents/Requests/Changes are created and updated in real time based on interactions with Customer via the Bot
Codeless Administration allows for easy configuration
Common Use Cases
Self Service Request: I need a laptop

The Bot presents the Customers with selection criteria required to create the Request. The Ivanti/Cherwell Request is created in Real Time, along with already configured workflow such as Tasks and Approvals.

Access Request: I need access to an application

The Customer answers some basic questions and the appropriate Request is created.

My computer is broken or something isn't working

The Smartbot will ask questions to help classify what is broken and a correctly categorized Incident will be created.

I need to quickly create common Incidents without taking time to launch the Cherwell client

Example: User types "I need to Provision a new VM". The Bot asks user to enter key data and the Request, with associated Approvals and Tasks, is generated.

Human Resources: my address changed, I got married, I had a child, health insurance, benefits

The Smartbot will securely create an Incident for the HR group

Facilities Management: my chair is broken, lightbulb is out, the keycard is not working, temperature problems, plumbing problems

A correctly categorized Work Order is created for the Facilities group

How Do I

Smartbot will search published Knowledge Articles in Cherwell and present results
The StrataCom Smartbot for Cherwell is enhanced with Intelligent AI capabilities, allowing for natural speech interaction with customers as well as improved algorithms for searching the Cherwell Knowledgebase and Service Catalog.
Recorded SmartBot Demonstration
Capabilities and Functionality
Cherwell Administrators can easily configure the Smartbot for Cherwell:
Use the StrataCom drag-and-drop workflow editor to manage your Smartbot's workflow
Tie workflow to Ivanti/Cherwell actions including: Search the Knowledge Base, Create a ticket, Update a ticket, Query for a ticket(s), initiate Automation like Password Reset or Restart a VM
Easily integrate the Smartbot with your existing Service Catalog so that users can find items for request
Use our intuitive 'Adaptive card builder' to build interfaces allowing end users to enter or view Ivanti/Cherwell data in the Smartbot platform or within the body of an email
Alert end users when an Ivanti/Cherwell ticket is updated by sending notifications to their Microsoft Teams account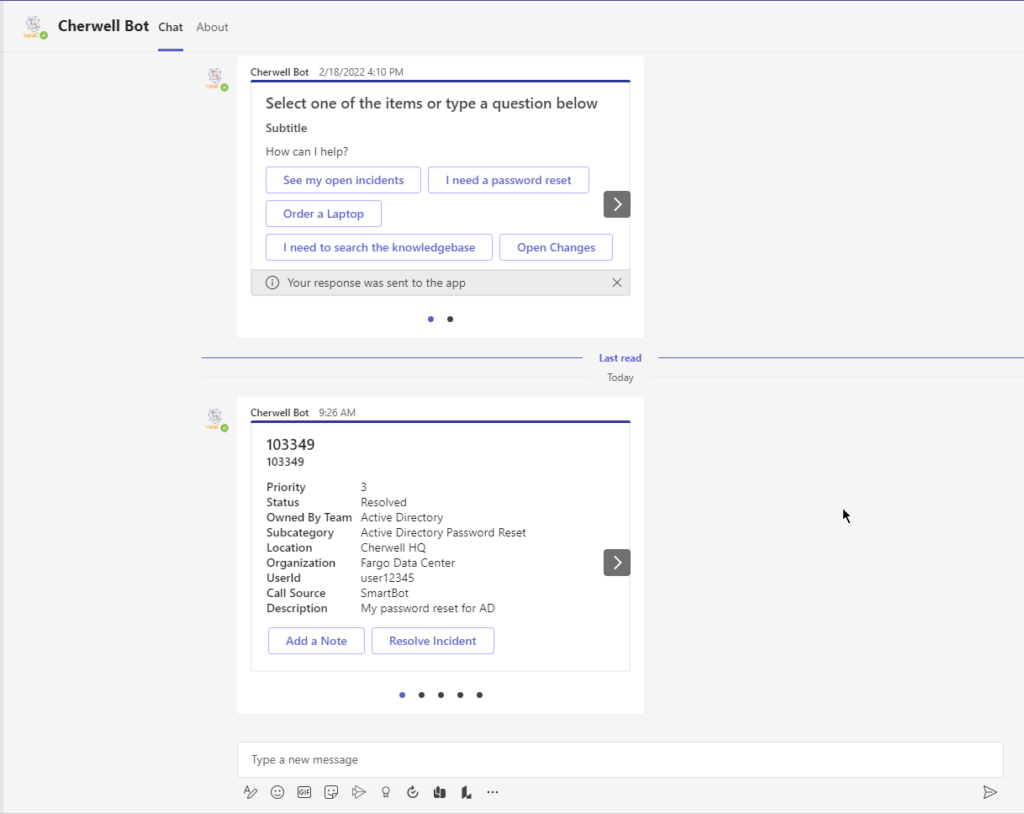 StrataCom SmartBot for Ivanti Neurons
for ITSM & Cherwell FAQ